TOOR KNIVES Serpent
$290.00
If you're looking for a tactical blade and space is a premium on your gear, then this is the knife for you, as it's slim line FlexTech sheath takes up minimal room. The Serpent's 1 1/8" ring allows for an easy draw, with or without gloves. The blade is ground with a "Tanto" grind, leaving two razor sharp straight edges and at 3/16" thick, is just thick enough to be used as a prying tool, while thin enough to still slide through flesh.
Our signature diamond back textured handle eliminates any chance of the blade sliding when wet, while still maintaining smooth contours for maximum comfort when concealed against the body. Made out of a cpm3v steel with a Socom Black or Tan KG Gunkote finish, and a textured G10 handle, this blade can stand up to the toughest elements with little-to-no corrosion.
Every Serpent is Made in the USA and includes a FlexTech KYDEX® sheath for easy retention adjustability, as well as multiple friction offsets to eliminate blade rattle.
Serpent Specs
Overall Length: 8.25″
Blade Length: 3.75″
Handle Length: 4.5″
Handle Material: G10
Steel: CPM3V
Blade Thickness: 0.1875″
Blade Hardness: 59-61Rockwell
Weight: 6.7 oz
Description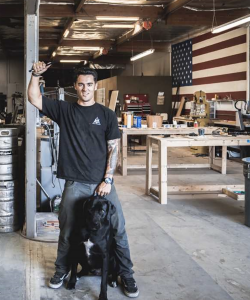 Toor Knives is owned by twin brothers Cam and Connor Toor, a Ranger and Marine striving to deliver excellence in blade functionality. Want to hear the story behind Toor Knives? Click here for Cam's interview and pics at Brother Born's Team Room!