BOTTLE BREACHER 2nd Amendment Flat Breacher
$22.95
2nd AMENDMENT BOTTLE BREACHER
Might be Eli's best work yet! We love making products with true meaning here at Bottle Breacher. The Second Amendment Breacher was made to look bad ass, destroy bottle caps and remind "we the people" that our founders were concerned that one day Americans would face tyranny. That is why they gave us the ability to bear arms along with maintaining well regulated militias.
The product itself is plasma cut out of mild steel, tumbled, powder coated and laser engraved, all in Arizona. This is the perfect gift for any Patriot. Whether they like to shoot or own a firearm, every Patriot appreciates the divine and freedom loving wisdom transcribed in our founding documents.
Get one today for yourself or a friend and support our Veteran Owned & Operated, Made in the USA, Shark Tank Winning company and never forget that freedom is always one generation away from extinction.
– Flat 14 gauge mild steel (A36) short barrel rifle cut out
– Only available in Black Powder Coating, giving a dark metal (almost black) on black look.
– 2nd Amendment Engraved on Breacher: "A well regulated Militia, being necessary to the security of the a free State, the right of the people to keep and bear Arms, shall not be infringed"
– Measures 8″ L x 3-3/16″ H
Out of stock
Description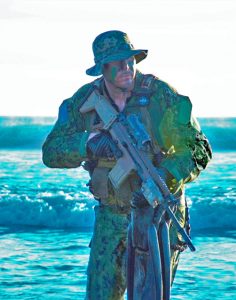 Navy SEAL Eli Crane owns Bottle Breacher. He and his wife appeared on "Shark Tank" and the rest is history! Want to hear more about this warrior's transition from the battlefield to Bottle Breacher? Click here for Eli's interview and pics at Brother Born's Team Room!