TOOR KNIVES Anaconda
$300.00
Named in honor of a 2002 operation that took place in the War in Afghanistan, the Anaconda is considered a Toor heritage blade, by some. Although strategically updated, we still designate this knife as both Tactical and Concealable, as its streamlined outline continues to take up minimal space on your gear.
The Anaconda's iconic ring measures 1.125", which allows for an easy draw, with or without gloves, and its blade features a rounded convex edge that allows for smooth slices. Our signature snake scales handle minimizes the risk of the knife sliding out of your hand when working in wet conditions, while still maintaining smooth and comfortable contours if concealed against the body. Constructed of CPM S35vn Steel, with a Shadow Black or Ranger Green KG Gunkote finish, the Anaconda is made to operate in nature's toughest environments with little-to-no corrosion on the blade.
Each Anaconda is made at the Toor manufacturing facility in San Diego, CA and includes a black FlexTech KYDEX® sheath.
Anaconda Specs
Overall Length: 8.25″
Blade Length: 3.75″
Handle Length: 4.5″
Handle Material: G10
Steel: CPM s35vn
Blade Thickness: 0.1875″
Blade Hardness: 59-61 Rockwell
Weight: 6.7 oz
Description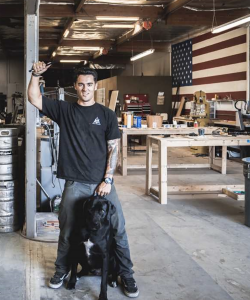 Toor Knives is owned by twin brothers Cam and Connor Toor, a Ranger and Marine striving to deliver excellence in blade functionality. Want to hear the story behind Toor Knives? Click here for Cam's interview and pics at Brother Born's Team Room!