BOTTLE BREACHER Gadsden Chrome/Black
$32.00 – $36.00
.50 CALIBER DON'T TREAD ON ME (GADSDEN FLAG) BOTTLE OPENER
Perfect for a Groomsmen Gift, Father of the Bride, Anniversary, Father's Day, Graduation & Stocking Stuffer. Whether used for decorative display, at special events, or as your everyday bottle opener, Bottle Breacher is sure to impress your friends and get people talking.
– Patented cut is ideal for repetitive use
– Made by Veterans in the USA
– High polished projectile
– Authentic recycled once fired decommissioned .50 caliber ammunition
Bottle Breacher's Gadsden Flag bottle openers are handcrafted .50 Caliber bottle openers made by Military Veterans here in the USA. The staff at Bottle Breacher used to use .50 Caliber ammunition to defend our country down range, they now use them to provide the best man gifts, groomsmen gifts, military graduation gifts, and promotional products on the market.
Description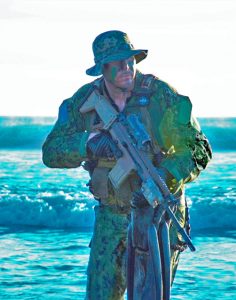 Navy SEAL Eli Crane owns Bottle Breacher. He and his wife appeared on "Shark Tank" and the rest is history! Want to hear more about this warrior's transition from the battlefield to Bottle Breacher? Click here for Eli's interview and pics at Brother Born's Team Room!