TOOR KNIVES Suitor Folder
$185.00
The Suitor was designed as an ultimate, compact pocket carry blade with a minimal footprint. This version features a traditional curved blade that is flat-ground from premium CPM 154 steel in an ultra slim profile. The blade rides on phosphor bronze washers for a smooth, controlled action and is locked into the closed position using an 1/16" steel detent ball.
Made entirely at Toor Knives' San Diego manufacturing facility, its lightweight titanium handles are 1/8" thick, while all of the hardware is precision counterbored to fit flush along the scales, providing a sleek profile. In the closed position, the titanium thumb studs act as a secondary stop for the blade, while also protruding slightly above the handle scale, to allow easy opening.
Suitor Specs
Mechanism: Frame Lock
Overall Length: 7.25″
Blade Length: 3.25″
Handle Length: 4.0″
Blade Thickness: 0.125″
Overall Thickness: 0.4″
Weight: 3.2 oz
Handle Material: 6AL-4V Titanium
Hardware: 6AL-4V
Screw Size: Torx 8
Steel: CPM 154
Blade Hardness: 59-61 Rockwell
Description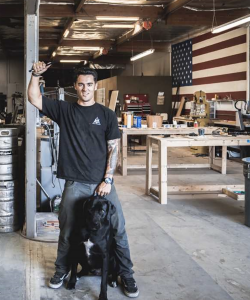 Toor Knives is owned by twin brothers Cam and Connor Toor, a Ranger and Marine striving to deliver excellence in blade functionality. Want to hear the story behind Toor Knives? Click here for Cam's interview and pics at Brother Born's Team Room!