TOOR KNIVES Merchant FL35T Folder
$260.00
This version of the Merchant features a tanto blade shape, which provides razor sharp straight edges, an extremely strong tip, and is complemented by a high bevel grind to allow for plenty of sharpening life.
This frame lock folding knife uses premium 6al-4v titanium precision machined handle scales with a CPM S35VN blade. We custom-make every screw and back spacer in our manufacturing facility. The blade rides on phosphor bronze washers for a smooth controlled folding action. Every Merchant is finished with KG Gunkote for ultimate corrosion resistance.
Lastly, every component of this blade is made at Toor Knives in San Diego, CA.
Merchant Specs
Mechanism: Frame Lock
Overall Length: 8.0″
Blade Length: 3.75″
Handle Length: 4.25″
Handle Material: 6AL-4V Titanium
Hardware: 6AL-4V
Screw Size: Torx 8
Steel: CPM S35VN
Blade Thickness: 0.125″
Overall Thickness: 0.5″
Blade Hardness: 59-61 Rockwell
Weight: 5.0 oz
Description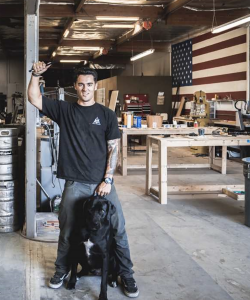 Toor Knives is owned by twin brothers Cam and Connor Toor, a Ranger and Marine striving to deliver excellence in blade functionality. Want to hear the story behind Toor Knives? Click here for Cam's interview and pics at Brother Born's Team Room!