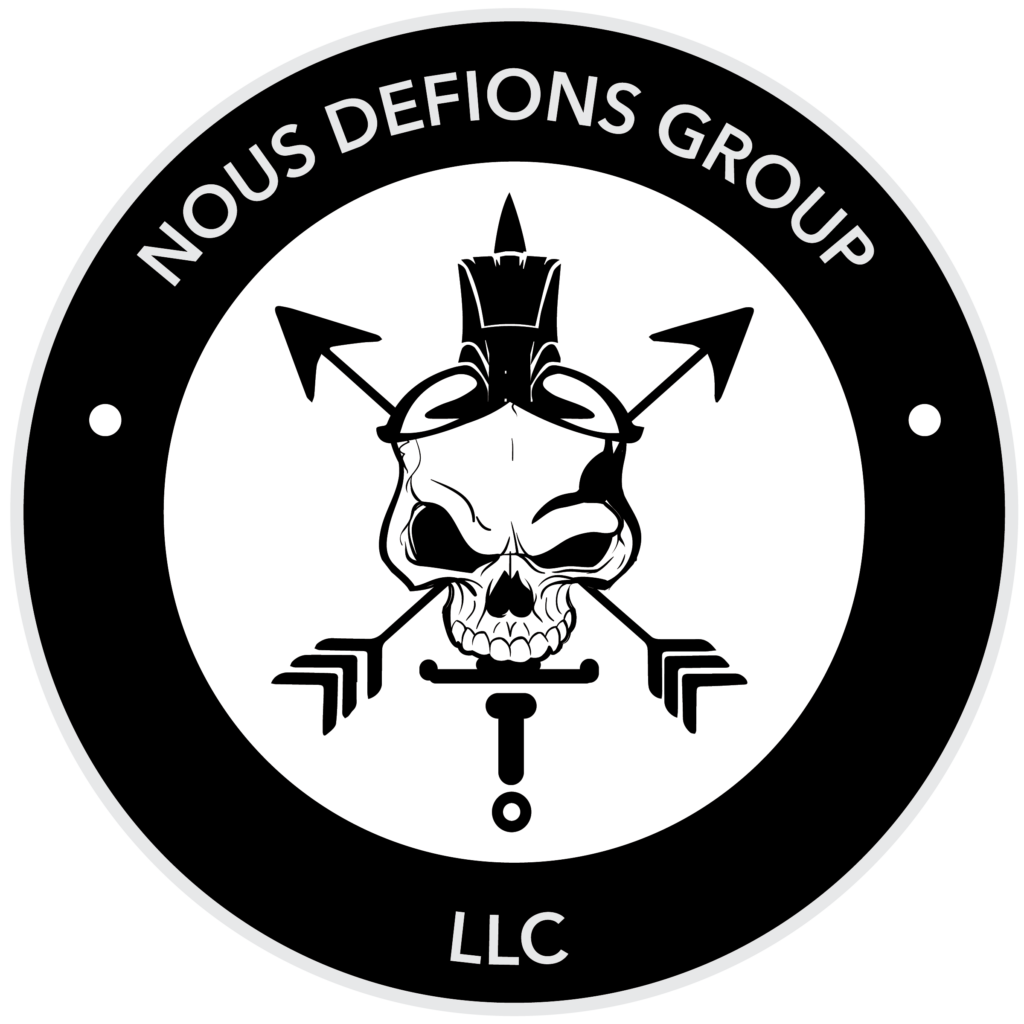 About NOUS DEFIONS GROUP
Nous Defions Group LLC or NDG is a Service Disabled Veteran Owned Small Business (SDVOSB) 100% owned and operated by Special Operations Forces (SOF) veterans offering a vast amount of training and services. NDG provides its customers with the highest quality Special Operations related capabilities possible supporting unique requirements. Nous Defions, "We Defy" represents the legacy of Direct Action teams and CIF Companies within Special Forces who adopted the motto, a true testament to sacrifice and commitment that will never be forgotten.
ABOUT JAN-PIERRE CERVANTES
Current Position: Founder & CEO, Nous Defions Group LLC. Mr. Cervantes founded the company in 2006 and has been providing Top Notch services to defense, federal and local Law Enforcement agencies. Also provides services for private industry and community outreach programs.
Civilian Education: He obtained an Associates of Arts in General Studies and is currently working on his Bachelor's Degree in Intelligence Studies through the American Military University, Manassas, Virginia. He is also a graduate of the REID Institute Advanced Course for Interviewing and Interrogation. He is also a qualified fluent speaker in Spanish, Pashto (beginner) and Brazilian Portuguese.
Television/Commercial Work: Participated in History Channel Documentary "Hunting Hitler" Season 1 in 2015 as an Investigator/Cast Member. Consulted in the filming of a commercial for Home Arrest in Puerto Rico as an expert in Military and Law Enforcement Tactics. Currently working in projects for TV Shows and Movies.
Military Service: Retired as a Chief Warrant Officer 3 (CW3) from a Special Forces Operational Detachment Alpha (SFODA). He served 17 years in the U.S. Military; of that time 3 years were spent serving as an infantryman. Then he attended the United States Army Special Forces Qualification Course becoming a fully qualified Special Forces Weapons Expert. He served as a weapons sergeant and Intelligence Sergeant for a Special Forces Operational Detachment Alpha (SFODA) specializing in Direct Action for 4 years before becoming a Special Forces Warrant Officer.
He continued his service as the Executive Officer of an assault and hostage rescue team in the U.S. Southern Command's Commander in Chief's Inextremist Force (CCIF). His capabilities expanded as he became the Detachment Commander of a specialized selected team that performed security surveys and assessments of diplomatic facilities abroad for the United States in the Special Operations Command (USSOCOM) Integrated Survey Program (ISP). Under his leadership his detachment also performed numerous surveillance and reconnaissance missions abroad. He also commanded and assisted in the creation of the SOUTHCOM Advanced Force Operations (AFO) team, which was tasked with reconnaissance and surveillance within SOUTHCOM's area of operations. As part of the United States Army Special Warfare Center and School he assisted in developing, writing, and publishing the Special Forces Counterinsurgency Manual and the Special Forces Individual Terrorism Awareness and Countermeasures for use by U.S. Special Forces. His service has included deployments to Afghanistan, Iraq, Panama, Haiti, Colombia, Guatemala, Argentina, Africa and numerous other countries for low signature missions.
He has attended: Mortar Leader's Course, Basic Parachutist Course, Warrant Officer Basic Course, Special Forces Assessment and Selection Course, Special Forces Qualification Course, The Survival, Evasion, Resistance, and Escape Course, The Jumpmaster Course, The Special Forces Advanced Urban Combat Course, and Special Forces Advanced Reconnaissance Target Analysis and Exploitation Techniques Course (SFARTAETC), Special Operations Target Interdiction Course (SOTIC) (SF Sniper School), Surreptitious Entry Course, Sensitive Site Exploitation Course, Special Forces Intelligence Sergeant Course, Special Operations Forces Animal Packing Course, Advanced Shooting Courses, Advanced Driving Courses, Surveillance Detection Course, Advanced Targeting Techniques Course, SOCOM's Data Collection Course, SOCOM's Data Tracking and Surveillance Course, DSS Executive Protective Course, DOD Joint Operational Support Technician Course Level I (JOSTC I), and the Computer Exploitation Course.
Some Decorations: Special Forces Tab, Combat Infantryman Badge, Expert Infantryman Badge, Master Parachutist Badge and Air Assault Badge.
Some Awards: Awarded Bronze Star Medal (1OLC), Bronze Star Medal with "V" for Valor, Meritorious Service Medal, Army Commendation Medal, El Salvador Gold Medal for Distinguished Services (Presented by President of El Salvador) and many more.