VALIANT VAULT Thin Blue Line Ranchman Humidor
October 13, 2020

VALIANT VAULT Betsy's Glory Rocks Glass
October 13, 2020
VALIANT VAULT Come and Take It Ranchman Humidor
$164.99 – $194.99
Our Ranchman is named in honor of our 26th President, Teddy Roosevelt, due to his love of cigars, country upbringing, and he was president in 1906 when the Springfield .30-06 was created. The Ranchman is made only in America with the highest quality materials and craftsmanship to ensure the best performance in your office, at home, or in the field.  It has been battlefield tested by U.S. SOF elements in climates across the world without failure.
Our proprietary shelving has become the standard, to allow for perfect 360 degree humidification of each and every cigar while maintaining the integrity of its taste and smoke providing the greatest quality storage and unblemished smoke of your life.
Sizes:
7.62×51 – 15-30 cigars 5 shelves, 3 rows each
.50cal – 25-50 cigars 5 shelves, 5 rows each
The cigar humidors come with our VV Logo humidification pack holder as well as with a Boveda Starter Kit which consists of 1 Boveda Humidor Seasoning Pack (84% RH) and 1 Boveda Humidification Pack (69% RH).
To further sweeten the deal, Boveda Butler hygrometer is also available, which measures temperature and humidity levels. It communicates via Bluetooth® to the free Boveda app on your iOS 10.0+ or Android 5.0+ mobile device.
Description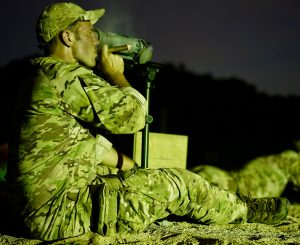 Valiant Vault is owned by Green Beret and Federal Law Enforcement Officer Glenn Hastings. Want to hear about his service and why he started Valiant Vault? Click here for his interview and personal pics at Brother Born's Team Room!